Written by the Bruce Lovgren, Class of 1988
"Central High School was good to me." That was my first thought when the Central High School Foundation requested that I write an essay reflecting on our society's continued efforts at creating a more equitable world for people with disabilities. Of course I would do it, I thought! Because Central made me — someone with a physical disability — feel like a welcomed, valued part of the community, which is unfortunately no small feat.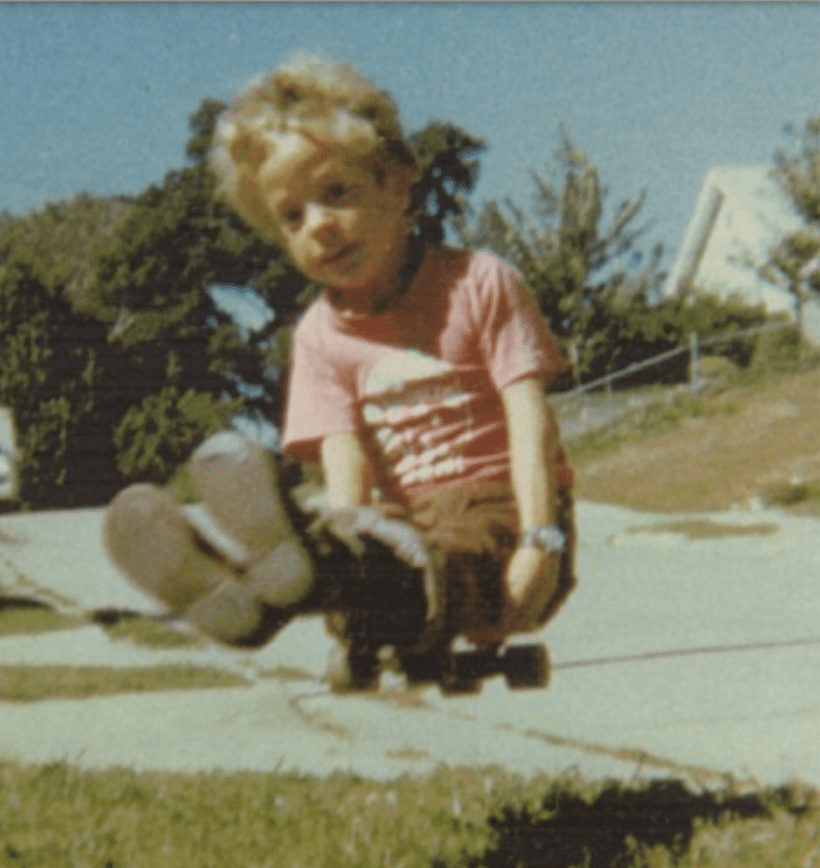 I was born in 1970 with a birth defect called Arthrogryposis Multiplex Congenita (AMC). It's a defect that affects the joints — often times both arms and legs with limited mobility or flexibility. Most people with AMC are of normal intelligence and are able to live productive, independent lives as adults. So, as a teenager, the only thing that separated me from my peers was my mobility and the speed with which I navigated the crowded hallways of Central High School. We all remember Central; running up and down those stairs to quickly get to your next class is a hallmark gripe that all alumni — regardless of generation! — can laugh about together. And even though I could walk up and down those stairs, there were other accommodations that suited me better. I was given my own elevator key (a coveted item!), I was allowed to leave class a few minutes early to get a head start, I was named the 1988 Student Council President, and I was also elected as the Senior Class Vice President. Like I said, Central was good to me. I was still able to feel fully a part of the community.
This is special to me because there have been other situations where the world around me has not been so kind to me. When I was born in small town Ohio, the doctor said to my parents, "Just take him home and love him. There is nothing we can do for him." (Ultrasounds were not widely used in the 1970's, so my condition was discovered when I was born.) Previous to my departure from the hospital, the social workers from the state of Ohio came into our hospital room and asked my parents if they wanted to "release" me to the state. Thankfully, my parents told them to "go pound sand!"
I was not alone in this; other children with disabilities had it far worse. Historically, the now-debunked science of Eugenics was heavily applied to children with physical and intellectual disabilities. Eugenics, the pseudo-science of arranging reproduction with a human population to increase the occurrence of heritable characteristics regarded as desirable, was developed by Sir Francis Galton. His theory was increasingly discredited as unscientific and racially biased during the 20th century, especially after the adoption of its doctrines by the Nazis in order to justify their execution of Jews, disabled people, and other minority groups. Although such science is now fully condemned, traces of its founding logic is still evident in the way doctors use ultrasound and other techniques to screen for possible disabilities and sometimes advise abortions as an option during prenatal genetic counseling. I spoke with a friend in Omaha whose daughter was born with AMC and scoliosis. When asked if she was advised by her doctor to get an abortion she firmly said, "yes." She recalled how her doctors told her that her daughter would be born "without any facial characteristics" and "probably would not have a functioning brain." 17 years later, that child is preparing to graduate high school and has excelled in many scholastic activities including trigonometry.
So as we contemplate how we can — as a greater society — work together to make this world more equitable for persons with disabilities, we need to start with doctors who advocate for the wants and desires of their patients, and also advocate for the needs of the children. It's impossible to be able to have a flight toward disability equality — or any other equality — if we can't make it out of the womb.
Beyond birth and childhood, people with disabilities face additional obstacles such as discrimination in our work places, in businesses we visit, on public transportation, from our landlords, from loan officers … the list goes on and on. Therefore, as a community, we need to continue to champion and uphold the value of the laws enacted to make this type of discrimination illegal. I'm talking about the Americans with Disabilities Act (ADA).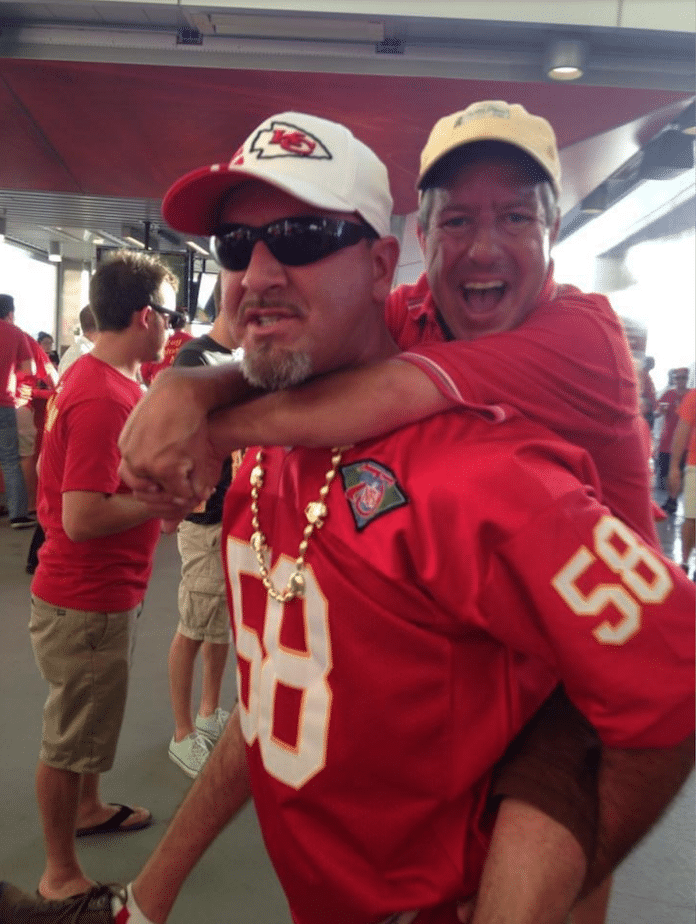 The Americans with Disabilities Act was the world's first comprehensive declaration of equality for persons with disabilities, and, shockingly, is only 30 years old. This act made any discrimination against a person based on their physical or intellectual disabilities punishable with legal and financial recourse. To illustrate the importance of, and far-reaching positive effects of, the ADA on my life, I think back to my trip to Cancun, Mexico. My wife, Sandy, and I went to a resort in Cancun to celebrate our 20 year anniversary and my 50th birthday. We decided to go off the resort to meet up with some friends that happened to be there and do some snorkeling. As we were getting ready to go out to the boat I realized that I had forgotten my swimming trunks at the resort. So we had to walk to the town square to get some swimming trunks. As we made our way I noticed that all of the sidewalks and curbs were not the same height. For example, one would be 10-inches high, and the next would be 15 or more inches high! It was clear that anyone with mobility issues could not navigate those sidewalks! This small — but very important! — detail made me feel glad to have the privilege to live in the United States and very thankful for the Americans with Disability Act.
Like with all public interest legislation, the ADA is constantly at risk of getting trimmed due to the cost of the provisions it requires. So in our flight toward equality for people with disabilities, we cannot take for granted the progress we have already made: we must continue to demand that our politicians prioritize and strengthen this key piece of legislation. It truly does change the lives of millions of Americans.
Finally, one of the biggest obstacles people with disabilities face would be financial obstacles. For example, the average individual owns a mode of transportation such as an automobile or motorcycle. According to Kelley Blue Book, the estimated average price for a new vehicle in the United States is $37,000. The average used vehicle costs $20,000. Imagine, though, that you have to retrofit that vehicle to make it work for your particular needs just to go to the grocery store, doctor's appointment, or any of the other things that we do in life. As a disabled individual, you are now looking at adding at least an additional $5,000 or more to the price of your vehicle. How about remodeling a bathroom to accommodate your particular disability? According to Home Advisor, the cost for a non-disabled family bathroom remodel is between $6,000 and $15,500. But for a bathroom remodel to be outfitted for a disabled person can go as high as $35,000. Now that's some serious cash and for many that is not attainable.
While there are tax exemptions and other government and non-profit entities that can assist financially with the additional costs of retrofitting the vehicles and homes of disabled persons, as a community I think we should advocate for a more streamlined and accessible method of offsetting these costs.
Like I've said, Central High School was very good to me. As a school community, they worked together to ensure that all students, including me, felt equal in our ability to be part of the Eagle Community. And I know the strong community of Alumni Eagles around the world are supporting their community members in the same way they supported me. It's the Eagle way. In partnership together, we can continue to push toward a world where people of all abilities can live happy lives despite unique challenges. Our differences are what make us amazing. And that is a value Central taught us that we can use again and again as we advocate for each other.
Go Eagles!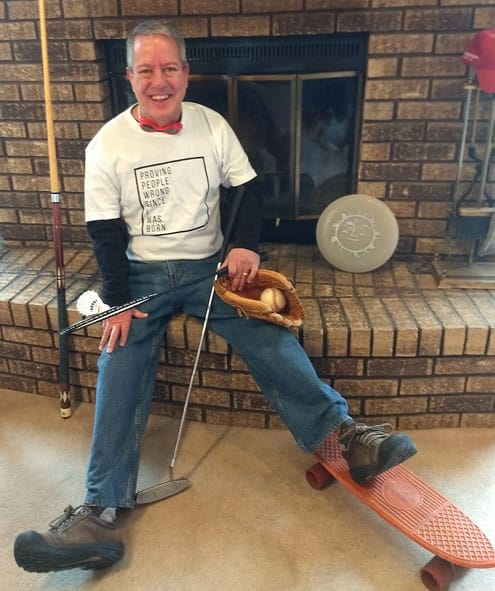 Bruce Lovgren graduated from Central High School in 1988. He earned his bachelor's in Tourism with an emphasis in Marketing from Black Hill State University in 1993. In college, he worked as an unpaid intern for Royal Cruise Lines, and humorously — but persistently! — asked the company for a free cruise as compensation. To his surprise, his request was granted! He and a friend celebrated their college graduation on a 14-day cruise beginning in Athens, Greece. They traveled through the Bosphorus up to the Black Sea, visiting Russia and Romania, and ended in Venice, Italy. For more than 20 years, Bruce has built a career as a traveling sales representative for various furniture manufacturing companies, including Symbol Mattress Company. In his free time as a child, he loved to skateboard and spent many long hours at Elmwood swimming pool. Today, Bruce loves to play golf, swim and play badminton with a twist — in the pool. He has been the subject of various articles about Arthrogryposis Multiplex Congenita, and currently lives in Omaha with his beautiful wife, Sandy.
The Central High School Foundation is a 501 c(3) and was established in 1996 to provide support for present and future Central High School students. To ensure that the tradition of excellence continues, the Foundation supports the school through a variety of activities including alumni relations, fundraising, grant writing, student scholarships, capital projects, and teacher and classroom grants. With your support, the foundation can continue to honor the past, live successfully in the present, and plan for the future. Click here: https://chsfomaha.org/support