Written by Ali Hodge, CHS 2009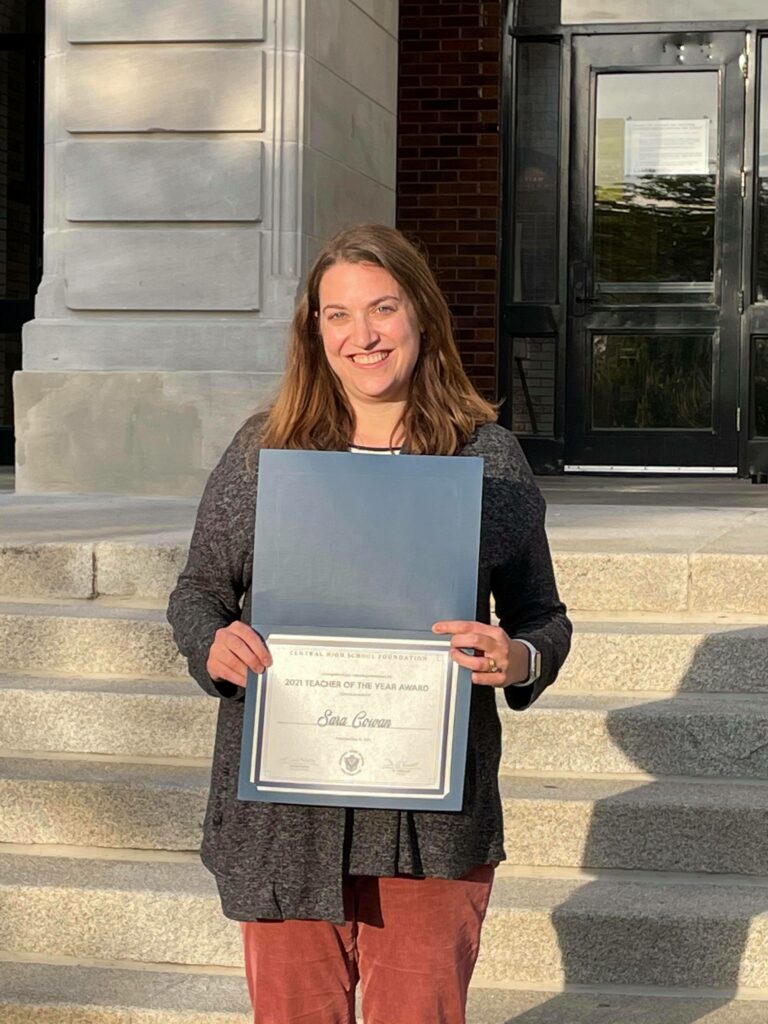 Sara Cowan was named the 2021 Teacher of the Year for her exceptional work as the Chair of the Performing Arts Department and for her the impact on students.
Sara is no stranger to Central, having graduated from Central in 2004. She attended Grinnell College for her undergraduate degree in music performance and the University of Minnesota for her master's degree in music and choir conducting. Even while at Grinnell, she knew she wanted to teach high school choir and called teaching at Central her "dream job."
While at Central, Sara was involved in the National Honor Society, the French program, A Cappella Choir and CHS Singers. She said she loved her experience in choir, and even met her future husband, Brian Fahey, CHS 2003, in that class. She was a sophomore and he was a junior, and both went on to major in music. "We really enjoyed that part of our high school life," she said.
As a student at Central, Sara said, "the school really gave me a place that I finally belonged. Central felt so big and everybody was trying to find their place, but their 'place' really was amongst each other. There was a huge sense of camaraderie."
As a teacher, Sara found that the magic persists:
"Central sparks students' passions. The administration, faculty, and students all work together to foster an engagement that really takes it to another level." She said the diversity and the school's commitment to inclusivity also plays an important role in the magic of Central. "It breaks down barriers," she said. "It sets up an environment where students can work together."
Sara has been teaching at Central since 2012, and she became chair of the Performing Arts Department in 2018. In 2016, she was named the Outstanding Young Choral Director of the Year by the Nebraska Choral Directors Association. She has been described as a good listener who approaches challenges with calm and grace. Even during teaching online this past year, she weaved humor into her teaching and created a sense of community and engagement that some choirs don't reach while practicing in person.

Sara said her advice for any new teachers at Central High School is to "Enjoy every positive experience that first year. Really live in those warm, fuzzy moments." She also suggests that teachers keep a file folder of every little note a student has written, which is a practice she does to keep herself grounded in the positive impact she's made. "Don't be afraid to make mistakes and learn from it," she said.
She is grateful to her former high school choir teacher, present colleague, and mentor, Lyn Bouma. "I love teaching," she said, "and Central is a special place."