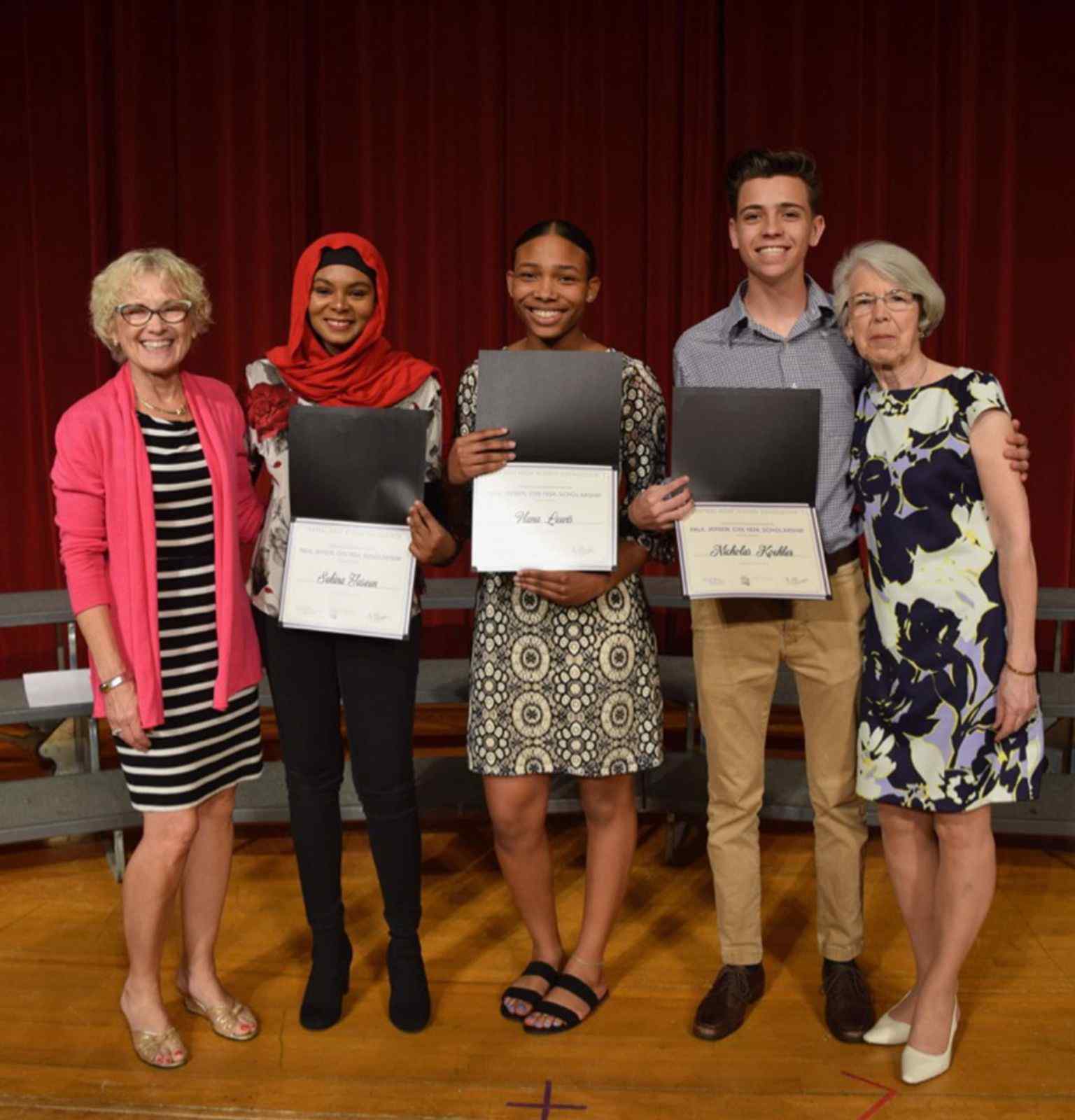 The Scholarship Fund
In December 1980, a member of the Class of 1932 donated $2,000 to start the Central High School Scholarship Endowment Fund. Principal G. E. "Doc" Moller immediately started to solicit money from various sources in order to guarantee the perpetual growth of the fund.

Today, the Central High School Foundation Scholarship Endowment has grown to nearly $2 million! Currently, the Central High School Foundation awards more than 52 scholarships to graduating seniors. Recipients are chosen by the Central High School Scholarship Committee on the basis of application, scholarship, citizenship, and need.

To support the Central High School Scholarship Fund, contact the Central High School Foundation or fill out the donation form below. Thanks in advance for your support!
The Lyn and Stephen Bouma Performing Arts Scholarship was originally established by The Dennis Anderson Family in 2010, to honor the Boumas' love of music and the positive impact on the vocal music students at Central High School during their long tenure as Choral Director and Accompanist at Central High School. Upon Mrs. Bouma's retirement in 2021, the couple chose to continue funding an annual scholarship for a Central High School choir member who plans to pursue a major or minor in a performing arts or performing arts education field.
Marilyn Buresh graduated from Central in 1943. While at Central, she was a copy editor for The Register, and developed a lifelong appreciation for jazz through first exposures to Downbeat and Metronome magazines in the journalism office. She moved from Omaha to Chicago to work as a lab technician at the Norwegian American Hospital, where she met her husband, Kenneth. She and Kenneth moved to Owatonna, MN, where she raised her family and engaged enthusiastically with her community. Music, art, and film were passions throughout her life, and her philanthropy supported accessible education and arts education in the communities she loved. This scholarship was established in 2021.
W. Edward Clark was a 1932 graduate and a longtime faculty member at Central who had a profound influence on the lives of students and in the development of Central's national reputation for academic excellence. Mr. Clark taught at Central for three decades, from 1946 to 1976. A thoughtful, reflective writer, he also produced fifteen plays, three novels and hundreds of poems. His vast knowledge of literature and his clear expectations for academic achievement by all of his students were hallmarks of his teaching. He continued to be recognized as a revered member emeritus of the Central Faculty until his death in 2000. This scholarship was established in 2001.
Henry Davis established this scholarship fund at the Central High School Foundation because he appreciated the great education that he received at Central High School and wanted to assist students who were pursuing vocational or technical training. Henry Davis graduated from Central in 1969, and is the President and CEO of Greater Omaha Packing Company. These scholarships were established in 2009.
Susie Fletcher Dickerson graduated from Central in 1933 and earned her B.S. and M.S. in Education from the University of Nebraska. She was a dedicated educator in the Omaha Public Schools for over 25 years. At her retirement she had been teaching 6th grade at Dundee elementary school. She was the President of the Omaha Chapter of Links Inc. and was the first female Deacon at St Philip Episcopal Church. Edward Fletcher Jr., Susie's brother, graduated from Central in 1944. He, too, worked to help others by joining the military as Petty Officer 2nd class, a cook, and machine gunner. He was a decorated battle veteran for his participation at both the Battle of Iwo Jima and Okinawa in 1945. He served aboard the USS Sullivan DD 31. After leaving the military, he worked for San Diego Management until his untimely death. The next generation of Susie and Edward's family continued their legacy. Niece Betty Thomas McWilliams graduated from Central in 1944. She worked as a banking supervisor in Lincoln, Nebraska. Susie's son, Charlies Dickerson, III, graduated from Central in 1959. He attended Penn State University to earn his bachelor's degree. After college he joined the armed services and became a naval officer who worked on the USS Springfield CLG and with the Sixth Fleet staff. He attended the University of Wisconsin A.B.D., earned his post MBA from the University of Illinois Post, and enrolled in Diversity Studies at Oxford University in Oxford, England. He was in management for thirty years with AT&T, became a partner at Berkeley Group LLC, and was a professor of American and African American History. He was the president of Sigma Pi Phi Mu Boule Foundation, honored as a Distinguished Alumni at Penn State University, and inducted into the Central High School Hall of Fame. Charles's sister, Susan Dickerson Browne graduated from Central in 1966. She earned her bachelor's degree from the University of Nebraska and her Master's in Education from the University of Texas. She also earned a Master's in Science from Southwest Texas University. Susan was a dedicated educator and administrator in the Westlake and Austin Texas School Districts for 40 years and later served as a professor of reading and reading specialist consultant in the Partner Reading Specialist group. The Dickerson, Fletcher, McWilliams families would like to honor their legacy with a scholarship to a deserving student who will continue to give back to the community by becoming an educator.
Marvin "Marv" Gilman was born in 1935 to immigrant parents and graduated from Central in 1953. He graduated from the University of Nebraska in Omaha in 1957. He loved jazz music, films, traveling, and was known for cheering on the Pittsburgh Pirates and the Cornhuskers! But most importantly, he loved the people in his life: his friends and family. He is remembered as being a grateful man who wanted to help others, including the students of Omaha Central High School. This scholarship was established in 2021.
David William Hojnacke was a 2020 posthumous Central High School graduate. David bravely fought Synovial Sarcoma during the last three years of high school. Despite the hardships of his fight, David kept a positive attitude with a desire to attend UNL in the Fall of 2021. David was a good student, and a wonderful friend and son. He enjoyed the JROTC, movies, reading, and his pet dog and snake. Above all else, David loved his friends and family. Those he loved called him a Good Samaritan: he aimed to help people, and sought to make everyone happy. It is that spirit, his family wishes will continue to spread throughout the Eagle community with the endowment of this scholarship. This scholarship was established in 2021.
Dean and Susan were high school sweethearts. During his time spent at Central High, Dean participated in Hi-Y, O-Club and numerous sports, most notably football. Susie was an enthusiastic participant in many social and academic clubs during her time at Central including City Choir, Pep Squad, and Future Teachers. Dean attended Kansas State University on a full ride football scholarship, where he had aspirations of becoming a history teacher and coach. He played for four years and completed his football and academic career at UNO. Susie attended Peru State College to pursue a degree in education. They married in the fall of 1966 and the two set out to start a family. Dean embarked on a career fostered by an entrepreneurial spirit instilled by his parents. First, in the insurance industry as an agent and eventually became the co-owner of the agency. Following the sale of the agency, Dean shifted his focus to commercial real estate. As a broker, developer, investor, advisor and mentor, Dean's real estate career spanned nearly four decades. In 2016 Dean was inducted into the CRE Summit Hall of Fame in recognition of his impact on the local commercial real estate industry. Susie, in addition to being a homemaker and mother of two boys, devoted time to charitable organizations and causes such as Friends of Planned Parenthood, Parents Assistance Line and All Saints Episcopal Church. Both Dean and Susie had a love for history and it is only fitting that their scholarship be awarded to someone who pursues an education in this field. The Dean, CHS 1964 and Susan, CHS 1965, Hokanson Scholarship Fund was started by Sandy Friedman, CHS 1964. For many years Sandy and Dean were classmates, close friends and business partners. The scholarship was formed after Dean's death in 2021.
Paul Jepsen was a 1929 graduate. The Jepsen scholarships are given by the Jepsen family in memory of their late father, Paul Jepsen, CHS 1929. This scholarship is unique in that it is renewable for four years. When establishing this scholarship, Paul's son Ed shared that the family's goal was to provide something meaningful so that deserving students could get a college education they might not otherwise be able to obtain. This scholarship was established in 2002.
This scholarship was established by Larry's sister and brother-in-law, Linda K. and Nelson Gordman CHS 1958, in his memory following his death from cancer in 2019. An Omaha businessman for more than four decades, Larry had the rare opportunity to work alongside his father and his children at the family company, now known as All Makes Office Equipment. Larry always strived to "do the right thing." He was a philanthropist and often mentored the next generation of business leaders in the community. He was passionate about helping others navigate tough times and succeed, and his wife Andi remains a pillar in the Omaha philanthropic community.
John Keenan taught English at Central for more than 39 years. He achieved legendary status for his demanding standards, his lively classroom and his determination to help every serious minded student succeed. Carefully written themes meticulously revised became the absolute standard for his classes, and theme deadline day always drew a large after-school crowd of students spilling outside the classroom as they attempted to complete their theme requirements. He received the Alice Buffett Outstanding Teacher Award in 1990 and retired in 1995. This scholarship was established in 2001.
The Kelleys have made their mark in Omaha in the investment world and through their dedication to education and children. After the high school sweethearts graduated from both Central and the University of Nebraska, Dick ultimately began a half-century career as an investment advisor. His service to clients and ethics have been noted by numerous industry observers, Dick named a top 50 advisor by Rep Magazine, Top 100 Broker by Money Magazine and a Top 400 advisor by Financial Times. Helen became a high school English teacher. She left the class- room to raise the couple's children, but her commitment to education remained. She served 13 years on the Westside school board, including several terms as president, and served as president of the Nebraska Association of School Boards. Dick served for nearly three decades on the board of Children's Hospital, including terms as president of both the board and the hospital's foundation. He was also a founding board member of the Omaha Public Library's charitable foundation. Helen's community work included service with the Girl Scouts, Omaha Symphony and United Way. The couple in 2020 celebrated 60 years of marriage. Helen passed away in 2020 at the age of 82.
Frank Knapple was a football, basketball, and baseball coach hired in 1926 who taught civics and economics for more than 30 years at Central. The Knapplemen, as they were known, were successful in football, basketball, baseball, and track. Though his teams had much success, his philosophy was NOT to win at any cost. He believed that good sportsmanship and citizenship must always come first. Show-offs were not tolerated. After retiring from Central, Frank was the Douglas County Superintendent of Schools for eight years. This scholarship was established in 2007 by Frank's son Bob. The scholarship was increased to $3,000 per year in 2020 by Frank's grandson, Patrick Thomas.
This scholarship is made possible due to the generosity of their son, Dr. Peter Krogh. Thor Krogh graduated from Central in 1924, and was a high school administrator in California and New York for more than 20 years. He also served with Research for Better Schools in Philadelphia and was the director of student teaching at the former Monterey Institute of Foreign Studies. This scholarship was made in honor of Thor and Kay's passion for education, and particularly the Central High School's English Departments impact on Thor during his time at Central.
Arthur graduated from Central in 1914. Due to World War I, Art enlisted in the Navy but completed his Liberal Arts degree following the war. He married his college sweetheart Genevieve in 1921 and started the securities investment bank Kirkpatrick-Pettis-Loomis Co. in Omaha in 1933. Art's father died suddenly in 1937 in San Diego. On a flight to California to console his mother, his airplane crashed into a mountain north of Los Angeles in the January fog. According to his son, "We don't control the challenges we will face in life; we do control how we handle the challenges." This scholarship was established in 1994.
E. Frank Maycock graduated from Central in 1948. Frank studied accounting at the Univ. of Nebraska-Lincoln and served 18 months in Korea, earning the Bronze Star. He served as an accountant at Plastilite for more than 20 years until his death in 1986. His son Tom followed in his footsteps, graduating in 1986. "If establishing yourself as a man of absolute integrity, sterling character, and a sly sense of humor is the measure of a man, then Frank accomplished in his 55 years what it will take most 110 years to accomplish." This scholarship was established in 1987.
G.E. "Doc" Moller served Central for 32 years, the last twenty-seven as principal. During his tenure, Central's reputation as one of the most-respected academic institutions in the area flourished as students earned countless awards and scholarships. This included having at least one National Merit Scholar in each of his years at CHS. Believing a teacher's command of the classroom is essential to learning, he made it a cornerstone of his administration to guarantee a proper learning atmosphere throughout the school. Under his guidance, the Central High School Endowment Scholarship Fund and the Central High School Foundation were created. This scholarship was established in 1996.
Lieutenant colonel Robert G. Nelson Ph.D. (US Army retired) played three sports and earned recognition as the best athlete in his senior year at Central. Classmates nicknamed him "Sharpshooter" for his district record breaking hurdle skills and "three point" basketball shooting ability. At the University of Nebraska, Robert pioneered research to use behavioral psychology principles to modify stuttering. As a Vietnam War Veteran, Robert earned the rank of Captain and was awarded an Army Commendation Medal for outstanding service. After his active military duty, Robert followed his inspiration to study acting and script writing. As a result, "Nelson Glen" obtained several acting roles in television and film and obtained life membership in the Screen Actors Guild of Hollywood. He also served on the committee for performers with disabilities and the nominating committee for the 5th Annual SAG Awards. This scholarship was established in 2021.
Doris and Allen Oglander believed strongly in the value of education. Allen served in the Navy during World War II and attended Harvard Business School. After the War, Allen ran a mail advertising firm and patented a piece of equipment called "Dispensa-Matic." Doris had a passion for crafts, operating a yarn store for weaving and knitting. Doris and Allen encouraged their five children as well as their grandchildren to go to college. Eight of their grandchildren from the Rennard family graduated from Central. This scholarship was established in 2010.
Duane Perry was a mathematics teacher and head of the Mathematics Department at Central from 1940-1964, before he left to become Supervisor of Mathematics for the Omaha Public Schools. When he died in 1981, the Perry family established a fund in his memory to be awarded each year to the top graduating senior math student at Central. Doug was a 1966 graduate of Central and attributed much of his personal and professional success to his years at CHS. He was an enthusiastic supporter of the school and was instrumental in establishing the Central High School Foundation.
Kathy "Jo" Peterson was a community organizer, activist, social worker and a professor throughout Nebraska. In the year 2000, Jo Peterson received the Gandhi Award from The Grace Abbott School of Social Work, an award meant to honor individuals and organizations that exemplify Mahatma Gandhi's principles of nonviolence, selfless service, and social action. Although Jo Peterson did not attend Central High School, all of her children did. Her legacy gave her children, as well as her students, a love of learning and a desire for peace and justice. She impacted the community by teaching about the value of civic involvement, nonviolence, compassion, determination, forgiveness and resiliency. This scholarship was established in 2021.
Ruth Pilling was a 1926 graduate of Central, where she returned in 1936 to join the faculty as a Latin teacher. Also teaching English, French, and Greek, she retired in 1973. She helped set up one of the city's first language laboratories and established several new courses. Her interests in language and biology served her well in her passion for travel, which led her to every continent (with the exception of Antarctica). This scholarship was established in 2005.
Virginia Lee Pratt was an eminently successful mathematics teacher, counselor, and math department chair at Central. Teaching at her alma mater after graduating in 1937, she was a faculty member for over forty years. Her students regularly won state and regional math contests, making Central's math department one of the best in the nation during her tenure. This scholarship was established in 2016.
Seth Conrad Rich graduated from Central in 2007 and attended Creighton University. He was always involved in political activities and ultimately worked for the Democratic National Committee before his untimely death in 2016. While a student at Central, Seth participated in Speech and Debate. He was selected to be Central's Cornhusker Boys State representative in 2006. He qualified to participate in the Stennis National Student Congress in Washington, DC and the National Catholic Forensic League Student Congress. He worked for national political campaigns while a student at Central and Creighton. This scholarship will recognize a Central student who is Politically Aware and as Seth feels that being involved will make a difference. This scholarship was established in 2021 by the Seth Rich Foundation.
Janice Ross was born and raised in Lexington, Nebraska. During her junior year of high school she was selected to represent her school in the first Girls State in Nebraska. After graduating as Salutatorian, she attended UNL on a regents scholarship and earned a degree in elementary education. When women went to work in factories and other jobs, Janice taught preschool during World War II. After the war, Janice and her husband raised five children, all of whom have bachelor and post graduate degrees. Her grandchildren and one great grandson (so far) have college degrees as well. Janice had many volunteer activities including working to support women in their educational pursuits. She also loved history and spent countless hours researching her family history and visiting places her ancestors had lived. Her son-in-law, grandson, and great-granddaughter all proudly attended Central. Janice died in 2014 at the age of 91. She is buried with her husband at Arlington National Cemetery. This scholarship was established in 2019.
Ramona Byers Sanders graduated from Central in 1965. An active swimmer and runner, she attended colleges in Michigan, Kansas, and Nebraska. Married to her husband Rob and the mother of two girls, Mona lived a life of service to others. She wrote grants to aid the Blind in Florida and was later active as the secretary of her local NAACP chapter. That life of service and helping hand will continue to bless others in her name. This scholarship was established in 2004.
Ned Sariscsany graduated from Central in 2005. Ned was a boy who came into his own during his high school years, participating in activities such as DECA, fishing club, and rugby. He met fantastic friends at Central, and he was very proud to be an Eagle. Unfortunately, his life was tragically cut short. However, his memory lives on in the heart and spirit of this scholarship. This scholarship was established in 2008.
Robert Spire was a distinguished graduate of the class of 1943. During World War II, he was a U.S. Army officer in the South Pacific. He attended the Juilliard School of Music as a pianist before later attending Harvard Law to become an attorney. He served as Nebraska's attorney general from 1985 to 1990 and implemented Nebraska's program for attorneys in private practice to provide pro bono legal services to the community. This scholarship was established in 2008.
Hird Stryker Jr. was a 1936 graduate of Central. Hird enlisted in the Army Air Corps and served with distinction in the China-Burma-India theater of war while studying law. Stryker returned to Omaha and practiced law for more than 40 years with the Fraser Stryker law firm. This scholarship was established in 2008.
James Baume Stryker graduated from Central in 1942 and was the brother of Hird Stryker Jr. James enlisted out of Yale in the summer of 1943 and was overseas just a few months later to serve his country in World War II. James was killed in a minefield outside Gut Hazenfeld on Dec. 5, 1944. He was present at Omaha Beach on D-Day. This scholarship was established in 2002.
The Sunderland Scholarship is given by the Backer Family in memory of their grandfather, John E. Sunderland, Class of 1916. At Central, John was the Major of the Second Battalion, Editor-in-Chief of The Register, and a member of the Student Council and Senior Council. Following his graduation from Dartmouth College in Hanover, NH, he returned to Omaha to work for the family business, Sunderland Brothers, eventually becoming Chief Executive Officer. He met and married his wife Julie and together they had two children, James Sunderland and Marcia Backer. This scholarship was established in 2002.
Augusta Turpin was an English teacher at Central from 1937 to 1957. During that time, students would run to the teacher they wanted at the beginning of each semester. According to one of her former students Hugh Williams, CHS 1948, everyone vied for her classes; there were always more kids trying for her room than she could take on. This scholarship was established in 2008 by Hugh Williams, CHS 1948.
Ruth was born and raised in Kendall, Wisconsin, a town whose population is smaller than the size of Central's graduation class. Upon graduation, she attended nurses training in Madison and then worked as a nurse during the last years of World War II and then to support her husband through college. Ruth and her husband raised 4 children all of whom have bachelor degrees and post graduate degrees. The family moved around the country with her husband's work and finally landed in Omaha in 1964 where they stayed. She was the keeper of the family bible with all of the genealogy of the family, which she treasured. She researched and visited her Czechoslovakian roots with her husband, and often went back to Wisconsin to see her family. She had several grandchildren who proudly attended Central. Ruth died in 1996 at the age of 70. She is buried in Omaha. This scholarship was established in 2019.
The World War II Scholarship is given in honor and memory of the Central High School students who fought defending our country and our honor during World War II. A complete listing of students who died in combat can be found here.