1999 Central High School Hall of Fame Inductee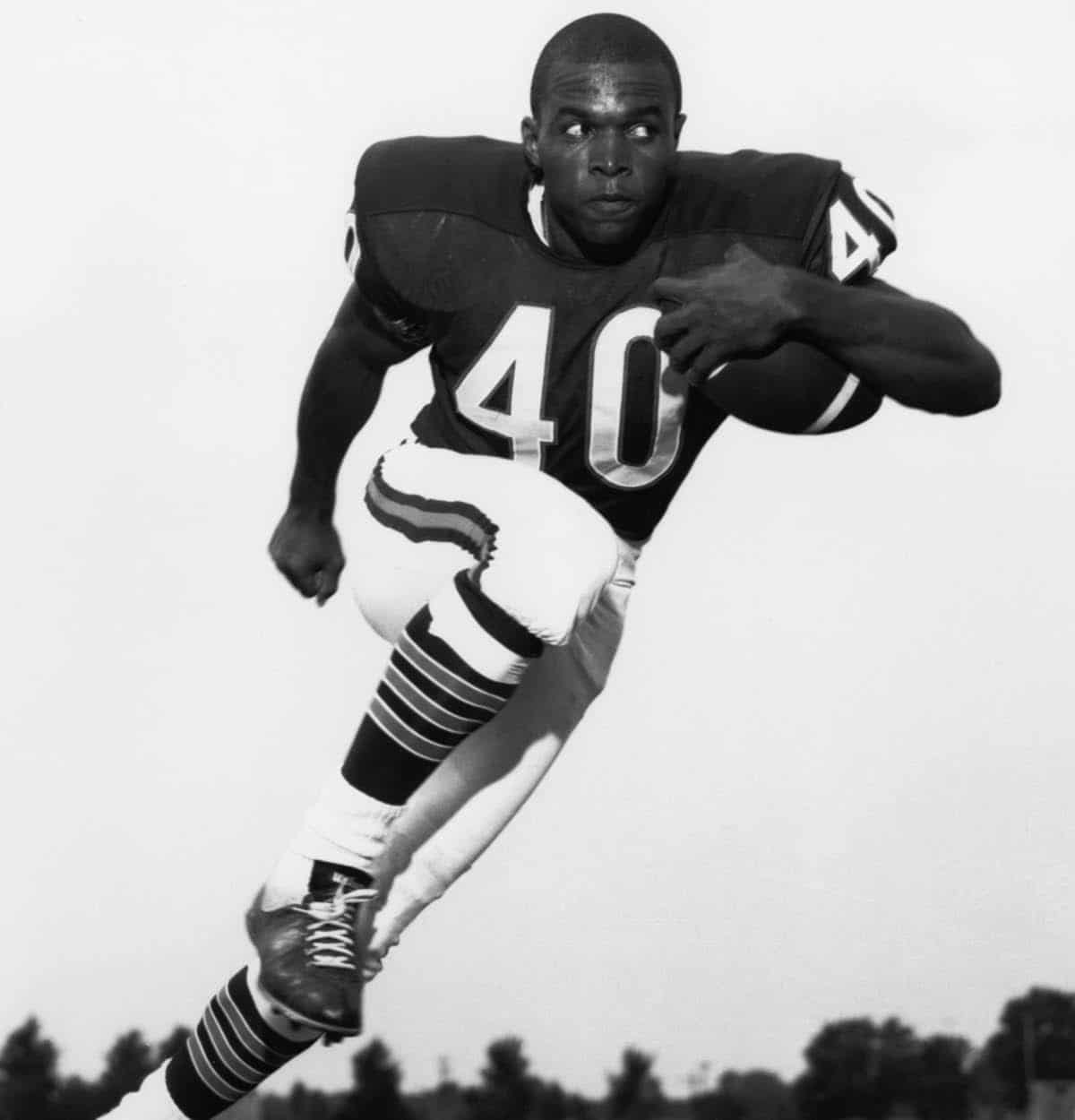 HIS PASSION FOR SPORTS STARTED EARLY.

As a kid, NFL legend Gale Sayers ('61) played in little league football and baseball like his big brother, Roger Sayers ('60). "It was destiny that we both loved sports," said Roger. "Gale was a good student, but his real passion was for sports from a young age."

From following his big brother across the field, Gale continued to follow him into the halls of Central High School. "I chose Central primarily for the academics," said Roger, who graduated in 1960. "Then Gale followed me to Central." Gale, who was a 1961 graduate, found his first athletic home as an Eagle.

Gale was primarily involved in football and track when he was in high school, and sometimes shared the field with his brother. "Back in those days," said Roger, "the only way to advance your athletic career was to be noticed as a high school athlete. If you didn't have attention in high school, you weren't recruited. And Gale was; Central gave him that start."
Gale became known as a dynamic and impressive high school athlete, and went on to became a football legend first at the University of Kansas, and then as a running back for the Chicago Bears. During his four season career with the Bears, he was named Rookie of the Year and All-Pro; and he set season records for total offense, touchdowns, and a single game scoring record with 6 touchdowns. His long list of awards includes being the youngest inductee into the Pro Football Hall of Fame at the age of 29, and an award-winning movie, "Brian's Song," was scripted from his 1970 autobiography, I Am Third.
"From an athletic standpoint, Central helped Gale go on to professional sports. The training and experience he received at Central helped him feel that he could compete at any level," said Roger. "He had the right coaching, he was involved in the right sports." Academically, he said Gale learned "not to second guess himself." By the time he had graduated Central, he had built the confidence necessary to achieve not only athletically, but also intellectually. His academic training made him feel like he could compete off the field as well.
Beyond athletics, Gale made a name for himself professionally. He had a successful career as the athletic director at Southern Illinois University, followed by various entrepreneurial endeavors. He started Sayers and Sayers Enterprises, a sports marketing and public relations firm, before launching Sayers Computer Source, which provided commercial customers with
technology products and brought in revenue of more than $150 million. In retirement, Gale devoted a great deal of time to supporting
and raising funds for dozens of charitable organizations.
"Gale may have left Omaha to pursue a life and career elsewhere, but he liked Omaha and he really, really enjoyed the time he spent at Central," said Roger. Central was the foundation for him. He loved the friendships he developed there, and he loved his coaches and teachers. "Sometimes that gets lost in the shuffle, but that's not a small thing," said Roger. "The bottom line is that it started here. For Gale, it all started at Central."
Gale Sayers passed away on September 22, 2020. He leaves behind a great legacy as an Eagle athlete, as a friend of the Central High School Foundation, and as one of the greatest running backs in the history of the National Football League.
To honor his legacy, the Central High School Foundation is erecting a bronze memorial sculpture outside the football stadium. Littleton Alston was selected as the sculptor to design and construct this bronze statue. He is an Eagle parent, an Associate Professor of Sculpture at Creighton University, and the owner of Alston Art Studio.
Bronze is a permanent medium, said Littleton. "They are still pulling bronze statutes out of the sea that are more than 5,000 years old. So being captured in bronze is one of the greatest honors anyone can receive."
The memorial sculpture will be near the Victory Eagle, positioned at the entrance of Seemann Football Stadium at Central High School. There, Gale will be captured in a running position, wearing the uniform he wore during the years he was at Central; his high school number, 48, on his back, the classic "C" on his front.
Gale Sayers' memorial statute will stand at a larger-than-life height of 8 feet tall, and will be an inspiring symbol of excellence for current and future Eagles.
Michele Roberts, Executive Director, said, "We hope this sculpture honors all the athletes that have played on the fields of Central High School."