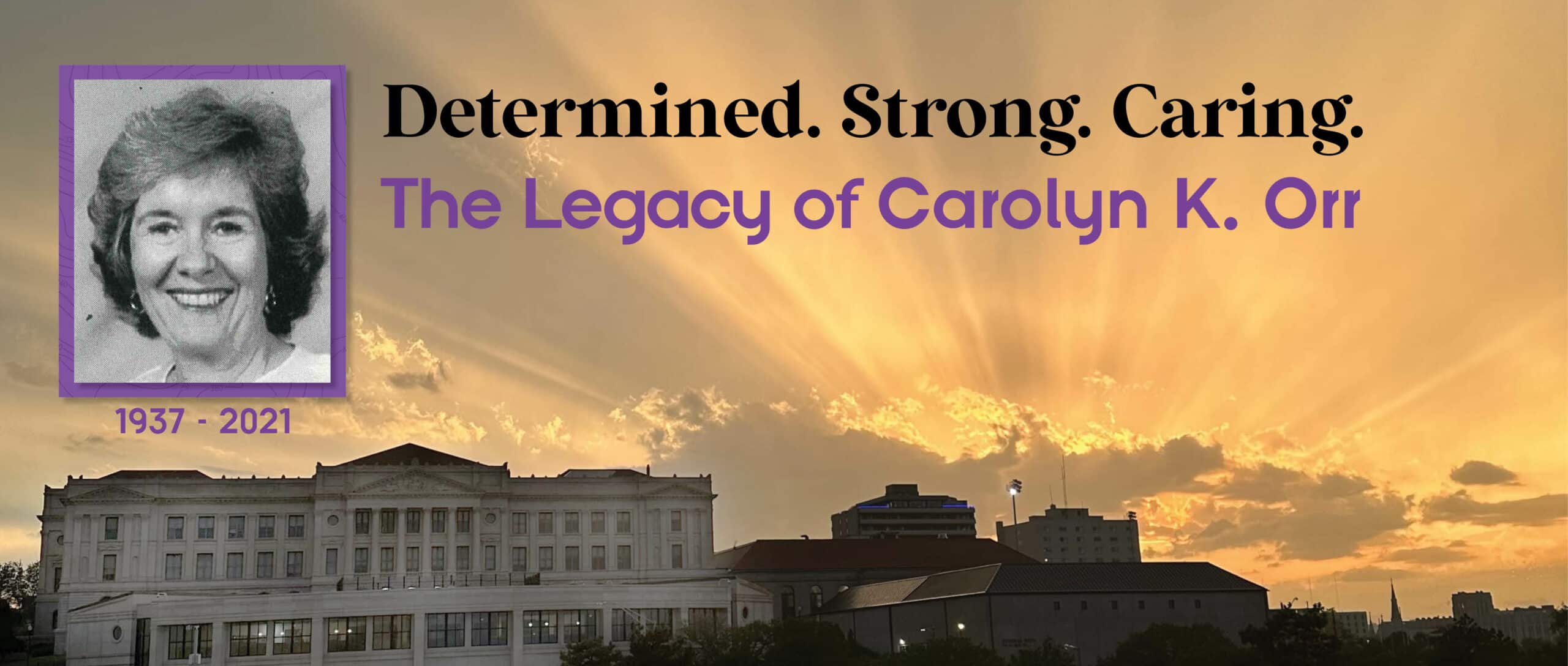 On the first day of class in 1962, students rushed the hill to Omaha Central High School. After locating their lockers and saying hello to friends they had not seen all summer, they filed into their first class of the semester. Some of those students entered the classroom of a teacher new to the capitol hill high school – Carolyn Kay Orr. That morning, in fact, was the start of a 34-year long career as a business, typing, accounting, and marketing teacher at Central. Throughout her career, Carolyn would become known as the "teacher's teacher," dedicating her many years of service not only to the quality education of hundreds of students who passed under her tutelage, but also to the fellow educators who worked alongside her.
A native Nebraskan, Carolyn grew up on her family's beloved farm outside Dakota City, Nebraska. Her parents, Jack and Charlotte Orr, had three girls: Jackie, Carolyn, and Sharon. She graduated from South Sioux City High School in 1955 and pursued her bachelor's degree in education from the University of Nebraska at Lincoln. While in undergrad she developed her love of education, music, and piano. She also became a member of Phi Beta Kappa in 1959.
After college, Carolyn began her teaching career in Beatrice, Nebraska. After three years teaching, in 1961, she returned to the University of Nebraska at Lincoln to earn her Master's in Education. It was after she finished her master's degree, in 1962, that she moved to Omaha and began her career at Omaha Central. Carolyn held such a deep love and dedication to Central that she made it the home of her career, teaching 34 years before retiring in 1996.
During her years at Central, Carolyn dedicated considerable time to uplifting the educators she worked with. She was described as a "pillar" of the Business and Marketing Department. Understanding that public education is only as good as the quality of educators, she was known as someone who was ready to provide assistance, support, and encouragement to fellow teachers. Most notably, she organized the first Annual Teachers Luncheon at Central, a tradition which is still going strong today.
While at Central, Carolyn met her significant other, Jerome Gillogly, who taught American and World History for many years. Together, they lovingly cared for their pet dog, Gus, whom Carolyn called "her best friend."
A Love for Central
Carolyn held great love for her Central students and the community they created, not only within the walls of Central High School, but in the wider community as well. She was instrumental in forming the Central High School Alumni Association in 1996 and, in retirement, was a beloved client of many of her former students who became professionals in law, medicine, and other business professions. Seeing their progress and success firsthand brought her incredible joy.
Carolyn passed away on February 10, 2021, at Omaha Methodist Hospital from COVID-19 complications at the age of 83 and was survived by her five nieces and one nephew. In 2022, her estate established a scholarship to honor her love of music. An avid piano player herself, Carolyn wished for her estate to be used to assist in the education of Eagles who pursued degrees in music. This renewable $20,000 scholarship will be awarded annually to an Eagle who will study music as a part of their post-secondary degree.
Through Carolyn's generous commitment to Central High School – both in life and in legacy – her spirit will continue to live on in the lives of generations of Eagles to come.