Written by Ali Hodge, Class of 2009
Kathy (Fox) Humann, Class of 1968, was going crazy in quarantine despite the fact that she was at home surrounded by two of her life-long passions: the materials to quilt, and her pets and foster animals. The urge to help her community during this time was a strong force.
That's when a suggestion on Facebook caught her eye: Join the group 'Nebraska Hands and Feet!' Started by a local nurse seeking to fill the sudden need for face masks amid COVID-19, a small group of online creatives — which now included Humann — joined forces. Nearly 3 months, and 80,000 masks later, they are still sewing together. Kathy by herself has made more than 900 masks with materials from her own quilting stash, and has donated every single one of them.
"It's been the most fulfilling, amazing thing," she said. "We have made masks for individual people, and organizations too. We've sent them all around Nebraska and to many other states!"
The group blew up overnight on Facebook at the beginning of the pandemic, Humann said. With more than 2,000 followers and 200 sewing volunteers, the operation has become very successful. "We've been able to fill an order for 1,000 masks in a single week."
Some notable destinations — in addition to individual friends and family — include the Ponca Tribe of Omaha, Ambassador Health Care Omaha, Pine Ridge in Sioux City, Iowa, Metro Area Continuum for the Homeless, Douglas County Health Center of Omaha, Heafy and Heafy Mortuary, Douglas County Youth Center of Omaha, South Omaha Community, and the Navajo Nation of Mesa, Arizona. One of Humann's most memorable donations was 300 masks for the Texas Department of Child and Family Services. Their team at the Rainbow Room work with abused children who are waiting to be placed with foster families; an essential public service that cannot stop during a pandemic.
Some donations weren't ordered ahead of time, though, said Humann; she has kept her eye out for opportunities to fill a need in her community. For example, she and her husband went to grab a pizza from Godfather's on one of their rare trips out of the house. While waiting, she said she struck up a conversation with a manager about their approach to continuing business during the pandemic. "Do you have masks?" she asked. The manager said they did, but they were paper and they weren't able to keep them clean easily. So she went home and made 14 masks for their whole staff.
"I really jumped in," said Humann. "For me, it was a matter of staying sane in this whole thing. But I also wanted to be part of the helping, I wanted to be part of the solution."
During the pandemic, she has also sewed masks alongside her sister, Kristina (Fox) Bizzarri, Class of 1967. "Sewing is one of our big connections," said Humann. "We've been quilting together for more than 30 years."
Humann and her sister, both talented quilters, developed a love for sewing in Home Economics at Central High School. "We both had the same Home Ec teacher, and even our mother had that teacher when she was a student at South!"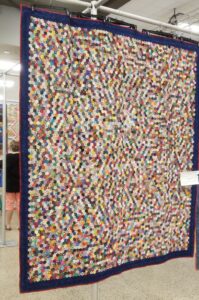 Humann graduated from being a sewer to a professional quilter in her adulthood, and for ten years she was a longarm quilter, which is a process where an industrial sewing machine is used to sew together a quilt top and backing into create a finished quilt. Her work won her many ribbons from Omaha Quilter's Guild.
Her commitment to being "a part of the helping; part of the solution" has been demonstrated many times in her life. After graduating from Central, Humann and her husband owned and operated a bed and breakfast in Walnut, Iowa for 14 years. In addition, she also founded the Western Iowa's Feral Cat Program, a nonprofit that spays and neuters cats in the community so that they can live happier and healthier lives in the wild. The organization still serves the community today, even though Humann has retired. She still fosters cats, and in addition to making masks during a global pandemic, is also bottle-feeding a small litter of kittens. And none of these activities keep her too busy that she cannot pour love into her 4 children, 10 grandchildren, and 2 great grandchildren.
Humann said the act of sewing and quilting allows her time to think, relax, and pray, which is important during the stressful time of COVID-19. All of that calming energy, she likes to think, is poured into every mask she makes and impacts each person who wears them.
"The Bible says do things to help others for the glory of God," she said. "Do something for someone else even if they never know you and you never know them… but what you're doing is going to help them. These masks are covered in prayer. Somehow on the other end of it, it makes a difference for me to know that somebody else is getting the benefit of what I have done."
Humann encourages others to lean into their community during tough times as well. "Stay busy helping others, even if it's a small thing: check on your neighbor, even just call and check on somebody. Do whatever it takes to reach out in a helpful way. When you're helping others, it warms your heart and helps you find purpose — and finding your purpose is important."
Photos provided by Kathy (Fox) Humann