2021 Central High School Hall of Fame Inductees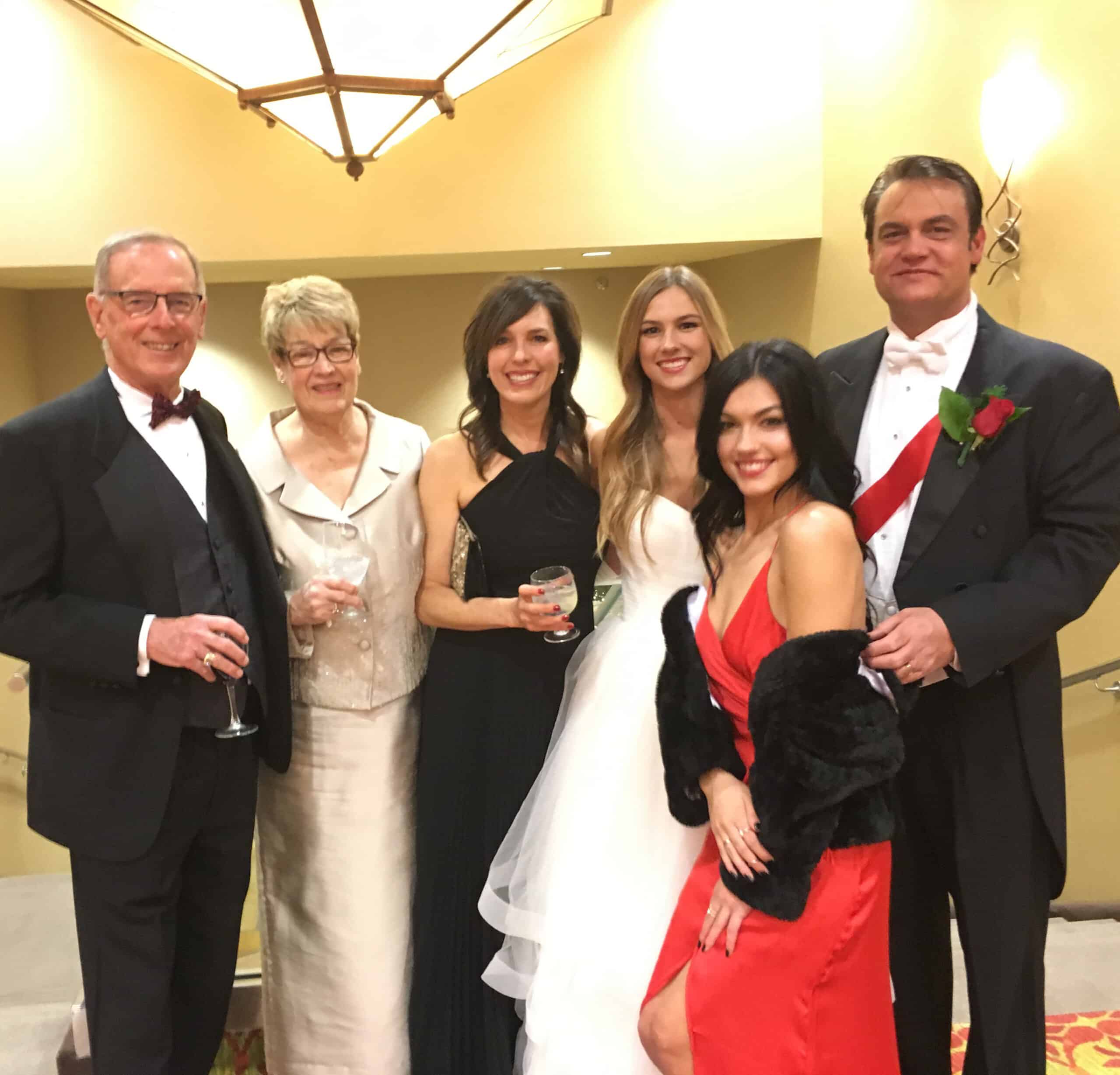 RICHARD AND HELEN HOCKABOUT KELLEY HAVE DEDICATED THEIR LIVES TO SECURE FUTURE OPPORTUNITIES FOR EAGLES THROUGH AN ENDOWED SCHOLARSHIP IN THEIR NAMESAKE.

She was a piano prodigy," said Richard ("Dick") Kelley of his high school sweetheart and wife, Helen Hockabout Kelley. Her a love of music floated between the lines of their life from the first days at Omaha Central High School all the way through to when she resided in an assisted living home. "The nurses used to open the doors when she played so the rest of the hallway could hear," recalled her oldest daughter, Allyson Kelley Baffert, who would sit with her mother and listen to her play Claude Debussy's 'Clair de Lune' for hours. "That part of the brain is usually the last to go."
Helen Kelley passed away of complications with Alzheimer's in 2020. But her story is not one to end when the music quiets. After a lifetime of dedication to children and public education, her legacy continues in her local community, in the Westside School District, and at Central High School. In 2022, Dick Kelley made a legacy donation to the Central High School Foundation and established an endowment scholarship in their family name, securing future opportunities for Eagles for generations to come.
Dick met Helen during their first year at Central High School when they were both elected as Freshmen representatives to the Student Council. Right away he noticed that she had a great personality, a great smile, and a great outlook on life. "She was an excellent student. She was second in her class," recalled Dick. "But she got a B in gym class and the class valedictorian had all A's!"
A B in gym class alluded to what her family lovingly remembered as being the only thing Helen was "not good at" in her life: although she loved sports, "she wasn't particularly athletic," her husband laughed. Besides lacking a natural ability to throw a ball, she was a force to be reckoned with otherwise: she performed in The Road Show; she was on student council all four years of high school, serving as President in the last two years for her impressive ability to get things done; she represented Central on the city-wide Student Council; she was an accomplished pianist who tried out – and qualified – for the Omaha Symphony; and she was nominated and named Ms. Central for her high academic performance, participation in school activities, and community leadership.
"She was named Ms. Central…It was a very prestigious award," recalled Dick, who snuck into the all-girls event with his friends and watched the entire awards ceremony from their hiding spot under the auditorium stage. It's easy to imagine him gazing up at the newly-crowned Ms. Central from his quiet spot in the shadows, falling in love with his talented classmate as she smiled wide and proud under the spotlights.
Such a love story is especially easy to imagine given that Helen asked Dick to be her date at the dance their senior year. "I don't think she even danced with me once, though," laughed Dick as he recalled how busy she was socializing. Regardless, their lifelong love story had begun.
The two high school sweethearts graduated from Central High School in 1956 and headed simultaneously to the University of Nebraska at Lincoln. Helen continued her commitment to her community by joining Kappa Alpha Theta, where she served as the President of her house in her senior year, and was chosen to join the honors sorority, Phi Beta Kappa. She continued to bring in straight-A's and was crowned Homecoming Queen. "She was a leader," said Dick. "Not only was she a leader in her sorority, she was also a leader on campus."
The summer of 1959, before the start of their senior year of college, Dick took Helen out to dinner. He was planning to propose, he just didn't know how to do it. He got all the way through dinner, all the way through the drive home, and even parked his car outside her parents' house before he made his move. "I just had the ring in my pocket and I was itching to give it to her," he said, "and I didn't know what I was doing. So I just asked her before she went upstairs!" It's easy to imagine that she gave him that same Ms.-Central-smile he had gazed upon years before when she responded "yes."
Dick and Hellen graduated from the University of Nebraska-Lincoln on June 5th, 1960 and were married 10 days later on June 25th. Their wedding was attended by many of their high school and college friends, which was unsurprising given Helen's popularity and the way she created authentic connections with the people around her.
Helen went on to become a Senior High School English Teacher at Westside High School for four years. It was a short-lived career that served as the catalyst for a lifetime of education advocacy. "She had a passion for education, and she loved children," said Dick, which is why the couple was especially excited to discover that she was pregnant with their first child in 1966. "We were both extremely excited."
In the following years, Dick and Helen had three children: Allyson Kelley Baffert, Beth Kelley Smith, and Richard ("Rick") Kelley, Jr. "She was an awesome mother," said Dick. She was the type of mother to frequently volunteer as Room Mom, serve on the PTA, and volunteer to run the summer recreation program for children in the neighborhood. Even though her teaching years were behind her, she still created rich, fun learning environments for her kids and their friends: tie-dying t-shirts, making candles, pretending to be super heroes, making paper machete crafts, going to the park to collect pine cones to make bird feeders, and much more.
"And we had a very musical home," said Allyson; a sentiment her siblings enthusiastically agreed with. "I remember that she would often play John Philip Sousa, she loved Annie and The Sound of Music, and when we were very young she'd always let us bang on the pots and pans."
"And when Mom and Dad would have people over, we would perform for them," Beth added.
"I remember that she would play The Entertainer – the full concerto," said Rick. "And I just thought that everyone's mom played the piano like that!"
Each of her children remembered the ways in which she individually supported the growth of their interests and encouraged them to be curious. "When it rained outside, she would encourage me to go out and play in the rain and squish mud between my toes," recalled Allyson. "Once on a trip to Colorado she helped us gather stones that we later went home and painted. She gave us so many creative opportunities, and if I had an idea, she would find a way to help me do it."
Beth remembered how her mother supported her love of the performing arts. "She would help me rehearse lines for my parts, she would help me with my singing, and she was very generous with her sewing skills: she would make sure I looked the part by sewing costumes, even on the night before the performance!"
For Rick, the youngest, he remembered the quiet every day moments with his mother in the kitchen. "She was always making cookies or doing something in the kitchen. And I remember how tolerant she was in my interest in cooking at a young age. She let me help. It lead to my love of cooking today – it brings me a lot of joy."
The strong sense of presence Helen brought to her parenting, she also brought to her advocacy for other children. She served 15 years on the Westside School Board, including several terms as President, and served as President of the Nebraska Association of School Boards.
"She wanted to make the schools a better place," said Allyson. "And she always saw room for improvement. She thought every child deserved a year of growth, and she knew the way to do that was by viewing problems as opportunities and valuing collaborative problem-solving."
Her tenure on the Westside School Board included leading the district through various growth initiatives, navigating a changing demographic of the student body, and she even testified in front of the Supreme Court with counsel from Westside in Board of Education of the Westside Community Schools (Dist. 66), et al., v. Mergens (January 1990). "She loved education," said Rick. "And her time on the School Board her greatest accomplishment."
The best part of her tenure, however, was likely the moment she got to hand her own children – Beth and Rick – their high school diplomas at their graduations. Her efforts to improve the education for all children in the Westside School District had lasting implications for her own family.
As prominent a role as their community and the Westside School District played in their lives, Dick and Helen always remained grateful for their time at Central. "Since both of us went to Central, we had a lot of fondness and love for Central. 
She was insistent that we would donate money to both Foundations. And we did! She loved education, she loved the high school, she believed in the students, and she was a real advocate for the teachers. We never lost our love of Central."
Although Allyson, Beth, and Rick never attended Central themselves, they said Central was an ever-present part of their lives; stories of their parents' friends floated around the home alongside the music. "I didn't attend Central," said Rick, "but we always saw our parents' friendships as precious. The strong bonds they formed there… if that's what Central meant to my parents, that was precious."
Today, the Richard and Helen Hockabout Kelley, CHS 1956, Scholarship supports students from all backgrounds and all abilities as they seek to expand their learning beyond Central High School to a college of their choice. Helen would have encouraged each Eagle awarded this scholarship to develop their interests and engage their curiosity. She would have encouraged them to make new crafts, engage in new initiatives for their communities, build new connections, make new arguments as they advocate for others, and even… to make new music. Such financial assistance allows them to do just that.